Cambridge Festival 2021
Unfortunately, due to concerns about the spread of COVID-19, no in-person events will be taking place. However, an online event will take place on Saturday 3rd April and several Physics-related events are happening in the weeks before. See below for details.
Activities are also available as part of the Project Moonbase programme in the Festival Zine.
Date
Time
Details
Booking
26th March - 4th April
10:00 - 17:00

West Cambridge is a hub for research excellence. In this self-guided tour of the site, participants will explore the different researcher topics that are being studied (past, present, and future!), with an energy emphasis. Along the way you'll gather some useful knowledge, trinkets, and even perform outdoor experiments.

Event Finished
29th March
19:30

Ripples: a live interactive event

From social media to spacetime, making waves underpins our world and society. But how do they behave? How do ripples form the fabric of our world, and how do we make sense of them?

Join this science-art project with Fellow Prof. Jeremy Baumberg to contribute your thoughts and ideas, and watch them play out in real time during this event.

Event Finished
30th March
14:00 - 16:00

The Making of a Physicist

A stream of four short films highlighting the story and research of four academic physicists, followed by a Q&A. Dr. Tana Joseph, Dr. Maria Ubiali, Dr. Carmen Palacios-Berraquero, Professor Val Gibson and Artist-turned-filmmaker Miranda Creswell will join for a panel discussion on each of their stories and the experience of film-making.

Watch Here
2nd April
19:00 - 21:00

SciArt at The Cavendish Laboratory and the Art & Science Soiree collaborate once again to present an unusual night in for creative thinkers, tinkerers, scientists and artists of all kinds to connect, collaborate and create. Join us for short science and art presentations, collective creative activities, mingles and thought sharing about the value of creative and scientific methods and experiences in our strange new world.

Tickets limited to 100 participants – others can follow the event via the live stream

Watch Here
Four of our researchers have produced short videos introducing their work, see the videos here.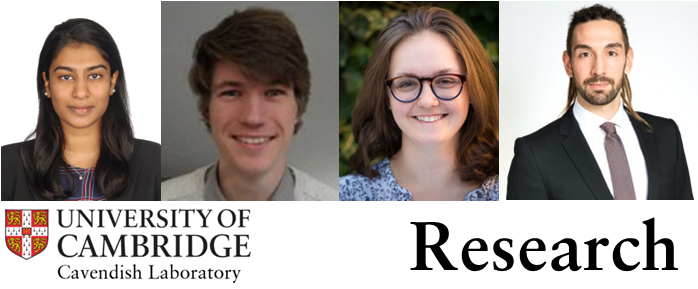 Alongside our entry into the Festival Zine, we have adapted some of our previous make-and-do activities to use common household items.