The 2023 Cavendish Festival will take place from 13:30-17:30 on Saturday 18th March.  Tickets for talks and the planetarium can be booked below.  The hands-on activities and demonstrations are drop-in sessions, and will be unticketed.
Activities are also available as part of our "Make-and-do at Home" collection.
Talks and Shows
All take place in the Pippard Lecture theatre.
| | | |
| --- | --- | --- |
| Title | Time | Click here to book |
| Sparks and Power: SciAnsell Talk | 13:30 | |
| The Neverending Story of Microbial Evolution: Dr Diana Fusco | 14:30 | |
| People Doing Physics Live: Prof Athene Donald | 15:30 | |
| 3 Minute Wonder Competition: Audience Tickets | 16:30 | |
Planetarium
Mark Rutherford School's travelling planetarium will be set up for talks around astronomy; We Are Aliens! and The Tour of the Solar System.
The planetarium will open from 13:30 to 14:00 for a drop-in session, with bookable shows following at 14:15, 15:00, 16:00, and 16:45. Showings will alternate between the following two talks.
We Are Aliens!
Earth. It's now a small world. The human race is connected better and faster than ever before but what about elsewhere?  Could we one day be part of a galactic community sharing our knowledge and ideas? Or is Earth the only planet with life?
We Are Aliens! takes you on an epic ride in the hunt for the evidence of alien life.
The Tour of the Solar System
The Tour of the Solar System is a live presentation.  Visit most of the astronomical objects in the Solar system from the Sun out to approximately where Voyager 2 is. If time allows the presenter may add other short shows.
Book here for ticketed sessions.
Drop-in Activities
All activities available throughout the afternoon, no booking required.
Title

Description

Location

Image

Cavendish Research Stories

The Cavendish Laboratory has been at the forefront of discoveries in physics since 1874. The department has always promoted world-leading experimental and theoretical physics research in all its diversity. In order to celebrate this journey, we invited the Cavendish research community to participate in its first annual photography competition.

The community responded with utmost enthusiasm, upholding our belief that every piece of research has a visual story. The entries covered diverse themes and all of them presented various aspects of physics research in inspiring, uplifting ways. This exhibition highlights few of these top Cavendish research entries for this year.

The exhibition can be viewed at the foyer area outside Pippard lecture theatre between 13:30 and 17:30 on 18th March. In case of any further information email us.

Pippard Foyer
Isaac Physics Drop-in Session
Come and find out about Isaac Physics, a FREE online learning platform for secondary students and their teachers. There are resources for Years 7 through to University in Physics, from GCSE to university in Maths, and for Sixth Form in Chemistry and Biology. The Isaac Physics team will be selling their printed books for £1 (cost price). These books are designed to strengthen the foundations and prepare the students for the next step in their educational journey.
Pippard Foyer Extension/155A
Andean Wetlands: A Signal of Climate Change
Andean Wetlands: A Signal of Climate Change is a piece of music instrumental music, inspired by a climate change study Ecosystem sentinels for climate change? Evidence of wetland cover changes over the last 30 years in the tropical Andes (Dangles et al., 2017).

The communication is achieved through various composition techniques, supported by listening guides. Techniques are ways in which musical features, such as a melody, are composed. They can help listeners perceive topics, such as climate change as well as aspects related to the scientific study.
 
This piece is part of a PhD which the composer, Ricky Chaggar, is undertaking at Anglia Ruskin University. Full details of the techniques for this piece and how they help to create these associations will be documented in the forthcoming thesis.

155B
Adventures in Nano Worlds

This event will involve interactive opportunities for learning about the fascinating world of nanoscience and quantum computing.

Come along and experience the wonders of the nano-world at our exhibition! Join us at the Cambridge Festival on the 18th of March from 2 – 5 pm in the Physics Department, where we will bring you on a journey and discover the incredible science behind some of the tiniest things in the universe! Including microscopes, microfluidics and Qubit the Cat, this exhibition perfect for children of all ages so be sure to join us and have fun!

Part IA Lab
Make-and-do
Try your hand at solving some physics challenges in these family-friendly, hands-on activities
Part IB Lab
Researcher and Student Demonstrations
See some fundamental physics demonstrated in exciting, visual ways, and talk to researchers from the lab about their work.
Part IB Lab
Four of our researchers have produced short videos introducing their work, see the videos here.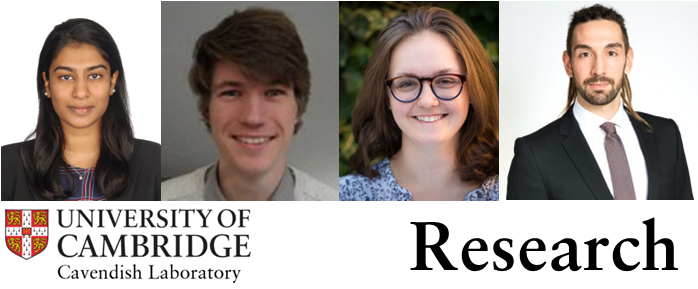 Alongside our entry into 2021's Festival Zine, we have adapted some of our previous make-and-do activities to use common household items.