Team Crocodile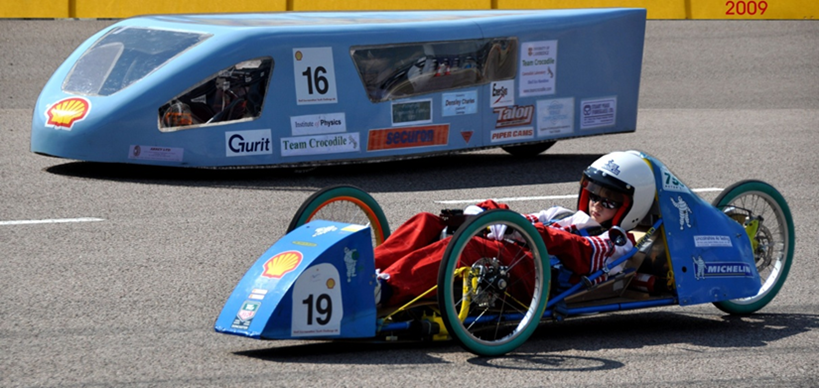 What will students see at your exhibit?
A demonstration of the Team Crocodile fuel efficient car and the factors that have affected its design.  Several factors have been shown to dominate car performance (friction, drag, mass), TEAM CROCODILE has considered these factors to design a more efficient car and achieved over 3500 miles per gallon of petrol.
What physics is used?
Friction: 
How much grip is needed to help the engine push the car along? Is there too much grip, slowing the car down? Are the car tyres made out of soft or hard rubber?
Aerodynamics: 
What is the best shape for a high-efficiency car? What affects the stability of the car?
Weight and Power: 
What is the most appropriate engine size? A large engine may give extra power, but is all that extra weight a good thing?
Technology: 
What are the best materials to use for different parts of the car (e.g. tyres, body shell, axle and bearings)? Why?
 Why is it useful?
The project shows the possibilities of car design projects and gives youngsters practical experience of a complex application of science.  Over nearly 30 years, Team Crocodile has encouraged well over 200 youngsters into apprenticeship schemes.  Over 150 have gone to universities and graduated, and five have progressed to PhD in Sci/Eng.  Six boys and one girl from the project have gone on to work in F1 racing.
Further Reading